After your air conditioning company has installed your AC unit, it is up to you to limit your usage and use it in a practical way. Keep your AC filters clean every month to ensure proper air flow at all times.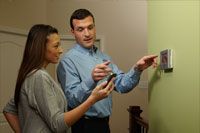 To prevent the suns heat from getting through your windows, install blinds or woven bamboo screens. Also keep your windows closed during the day. To ventilate your room, open your windows at night as it is cooler during this time. Your air conditioning company will tell you that your AC unit will take more time to cool your room when it is warmer.
Before you have your AC unit installed, ask about proper installation of your unit. The performance, efficiency and life of your equipment is greatly affected if not properly installed. Your air conditioning company can give you more information to help you save more on your energy bills while enjoying your equipment.
Phoenix AC Experts
18631 N. 19th Ave #158
Phoenix, Az 85027
(602) 773-5522